How Make Time Clock Helped me Donate My Voice
Lisa Niedermeyer
Hello, my name is Lisa Niedermeyer. I'm part of the Make Time Clock team at Fractured Atlas. Just like you, I'm eagerly awaiting the first production run. Working on this project has been a wonderful opportunity, I have learned so much from the conversations about personal internal barriers and the spirit of experimentation around structures of support. So many people are hungry to make time to be creative, to get lost in their passion project. I've been a beta tester myself on and off through the course of product development, using Make Time Clock for different short term projects. My most recent experience of iterating on how I'm using Make Time Clock has some nuggets in it the team felt was worth sharing, so here goes.
I'm not a singer, I'm not bilingual, I'm not an actor blessed with the talent of speaking in multiple accents. In spite of all this, I am donating my voice. I was inspired by the vision of VocalID founder, Dr. Rupal Patel, who is on a quest to make bespoke voices for the millions (yes millions) of people on the planet who use computers to communicate. Think of Professor Stephen Hawking's computerized voice, now imagine an 11 year old Latina girl from Texas expressing herself through the same computerized voice as Professor Hawking. Dr. Patel has a vision for scaling dignity and identity for the speechless, and the goosebumps on my skin were a clean sign when I watched her TED Talk and worldwide call for donations.
I had found a short term project I was passionate about. I really wanted to do it. I read and watched everything I could find about the project. I created a VocalID account. I donated my first 100 sentences, and then life happened. I stalled out. If I was going to complete the 5,000 sentences required to fully bank all of the vocal utterances necessary to engineer a bespoke voice - I was going to need a better support system.
It certainly wasn't helping me that I had no deadline. This is a common thread for those of us with passion projects, it's totally up to us. I needed to make this a priority if I was going to ever actually complete it. I decided I needed a strong visual to represent my prioritizing of this project. Doing Google image searches for something that was illustrative of my feeling about the project was a great process of clarifying for myself why I'm making time for this activity.
In my home studio/office/guest bedroom I put the image representing 'why' near my beta version of Make Time Clock, see here: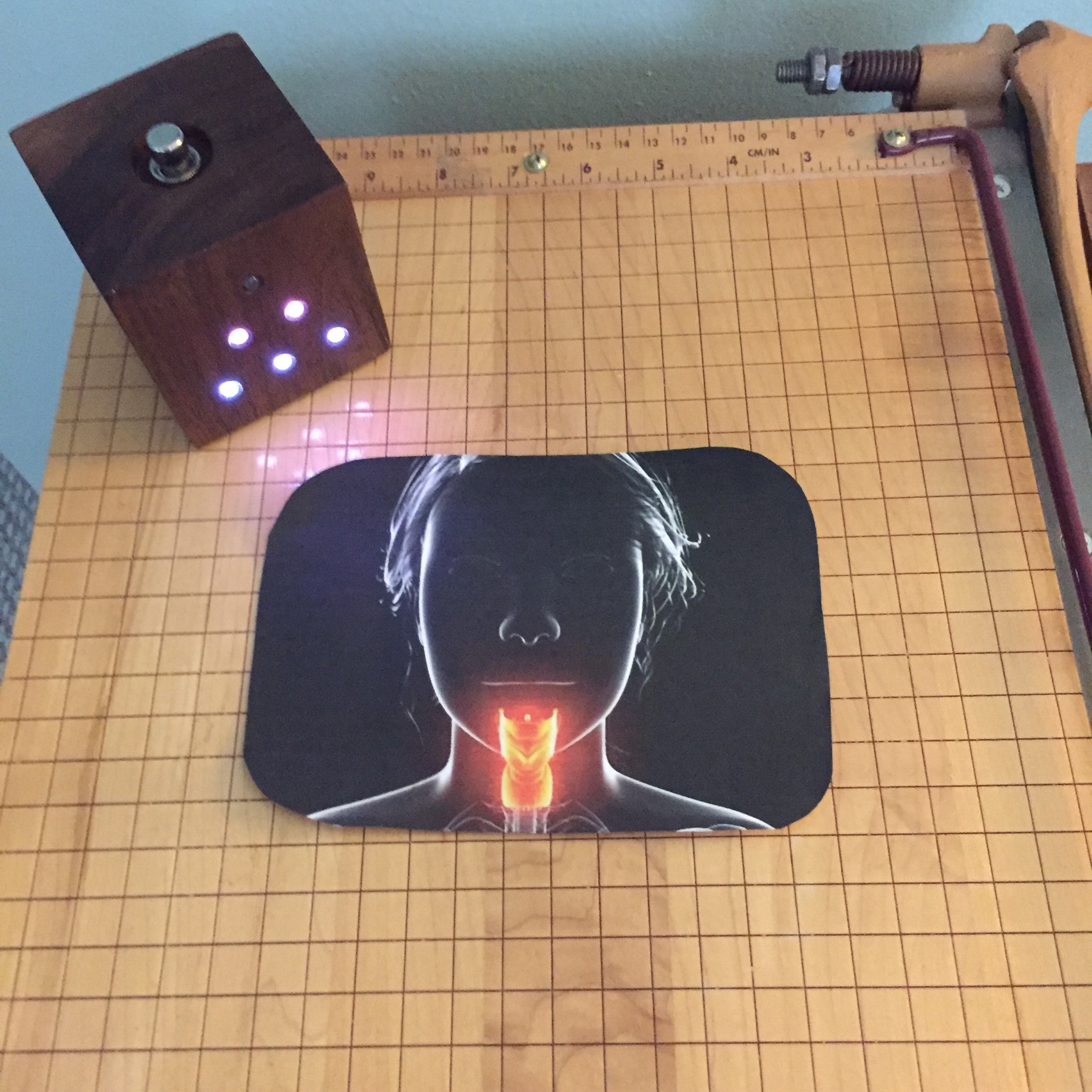 Now that I had strengthened the visual catalyst to making time for this activity, I needed to figure out my ideal rhythm and duration (5,000 sentences is a marathon yo).
The session duration for Make Time Clock defaults to 30 minutes (you can customize this in settings). By making time 6 days out of a 7 day week, you fill all the LED lights in the pyramid. Monday morning the lights all clear and you are visually prompted to begin your commitment anew. One of the most frequently asked questions about Make Time Clock is 'What if I work longer than 30 minutes?' the underlying question there is 'Will I get credit?'. So I was curious to explore and see for myself if a structure around tracking total time was important to me for this project.
At first I was squeezing in strict 30 minute sessions in the morning before my 'work day' started. But this schedule ended up making my vocal donation feel like a chore, and it took some time before I was in a good flow of recording. So... I decided to try a few open ended weekend sessions and my experience was quite different.
The sentences I read outloud when recording my voice are both original content created by the speech scientists, as well as content from literature. I found myself, for example, reading segments of Rudyard Kipling's poem 'IF'. I was choked up when recording these sentences because my grandfather had helped me and my brothers memorize that poem. In reading the words out loud I relived my big brother speaking these words at my grandfather's funeral.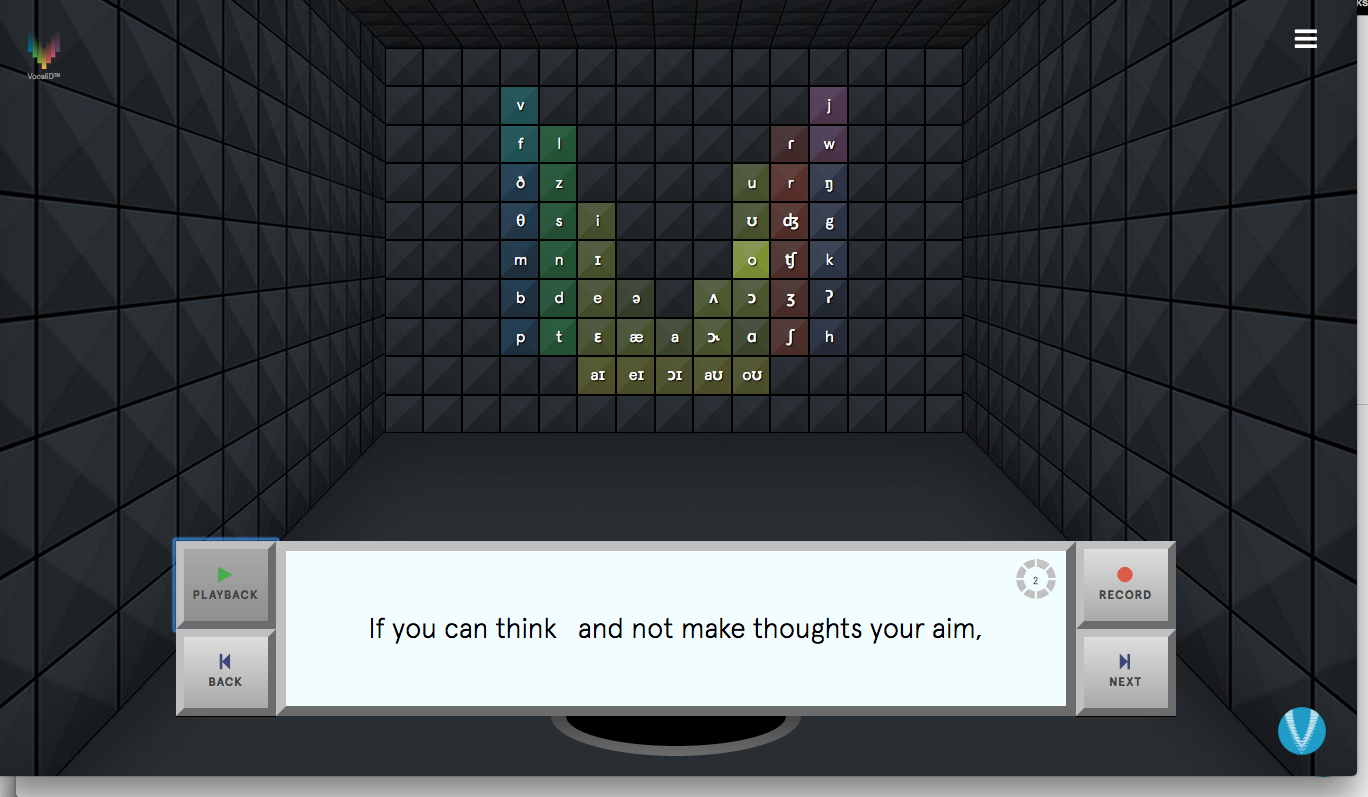 Because I wasn't trying to complete my 100 sentences during my 30 minute session, I took the time to go downstairs, pull out my worn copy of 101 Famous Poems signed by my grandfather and reread 'IF'. Now this may seem at odds with the idea of focusing on one activity and completing it. But I know myself, if I find meaning in the task, I'm going to keep coming back to the task, I'm going to keep making time.
While doing the weekday 30 minute morning sessions my relationship with Make Time Clock was mostly about filling up the LED lights, about a daily practice. When I switched to opened ended weekend sessions, my relationship was more about the action of clocking in and a mindful mode shift. Hearing the manual click of the button on the top of Make Time Clock (to me it feels like a guitar amp button) that CLICK would be key in helping me switch modes. After the click the LED light slowly breathes and glows, signaling to me I've already made a good choice and am free to drop into a flow.
When I reached 1,000 sentences banked VocalID presented me with a certificate. See here: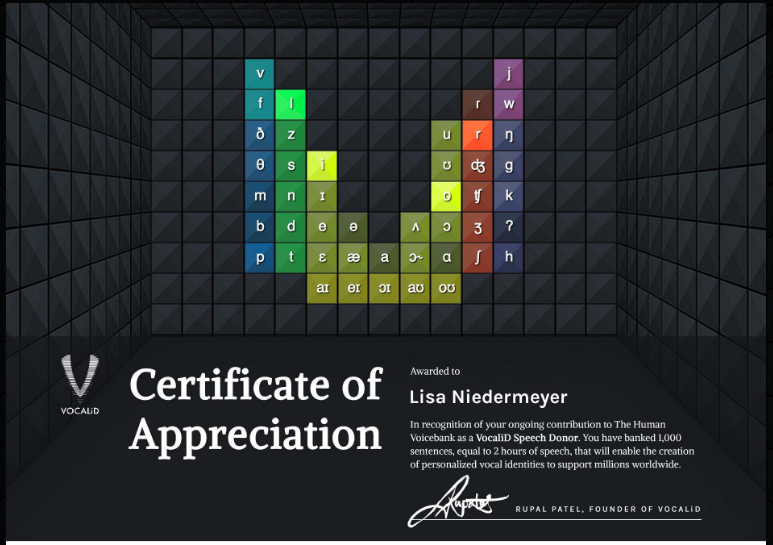 The certificate was recognition of my contribution so far and encouragement to keep going. But I wouldn't have even made it to the 1,000 sentence benchmark without Make Time Clock. The drop off was much earlier in the process than the VocalID team anticipated. Through using Make Time Clock to explore the time commitments and rhythm that worked best for me, I was able to find my momentum. I have completed my vocal donation and already been identified as a potential match to 3 women waiting for bespoke voices to be engineered for them, April, Angelia and Katy.
In summary…
Here are the supports I iterated around my Make Time Clock:
Here is what I learned about my creative rhythm for this particular project:
Strict 30 minute morning sessions felt like chores

Open ended weekend sessions allowed for flow state, and following new threads of inspiration that fed my curiosity around the activity

Clocking in action was key to me switching modes mentally

Tracking total time spent on the project was not meaningful to me
We are so very eager to get Make Time Clock into the hands of our backers. There are 500 individuals out there who are going to get a first production run and will all be experimenting and iterating. We anticipate Make Time Clock will be used a bit differently by each person and each project, we invite you to share your experiences by using the hashtag #maketimeclock.