July 31, 2014
Lessons learned from Prototype 1
After having an artist test Prototype 1 for a few weeks, I've learned some lessons that are influencing how 2 is coming together.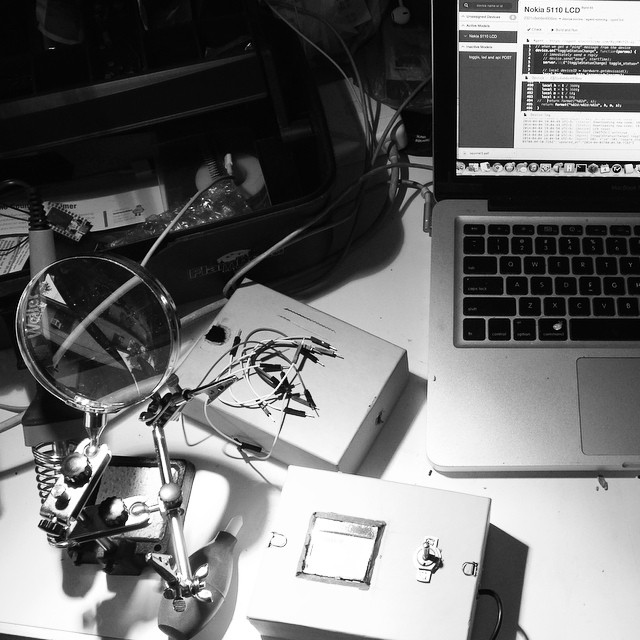 Typical desk clutter during prototyping.
DURABILITY
I used a breadboard and some jumper wires to rig up the first prototype and cram it in a paper box. Everything seemed fine and secure during development, but things went south soon after handing it off. The wires weren't properly trimmed or secured in the enclosure so each time it was jostled the connections would come loose. This resulted in screen glitching, requiring frequent resets resulting in data loss.
EXPECT MISTAKES
There were times our tester forgot to turn the clock on or off. I think this was partly because it's not easy to determine it's status from a distance. It would have also been helpful if there was a way to correct mistakes in the tracking.
TEST WITH ANYBODY
Maura Ambrose was my tester for Prototype 1 She's an amazing artist who happens to be my wife and works 50 feet from me. This made it very convenient to observe her usage and discuss her feedback immediately. (Also helpful because the prototype was so finicky.)
DON'T TEST WITH ANYBODY
However, I've realized Maura isn't one of my target users. She's a full-time artist, working full-time hours. She does not have a secondary job or income.
She did find it helpful to keep detailed records of time spent on various projects (she'll sometimes have 150-200 hours into a single piece). This information helps when it's time to price work. It's also been handy for her to set expectations on how long a task might take when passing off to an assistant.
That being said, I'm convinced she thinks about her work and time differently than somebody who doesn't make their living from their art. Someone coming home from a day job and trying to find the energy to work on a passion projects has different goals and challenges.
It's becoming clear that the purpose of the clock is part motivation, accountability, encouragement and inspiration. I'm still not sure what form that all takes, but I'm be experimenting with some ideas in future prototypes.
IN SUMMARY
Prototype 2 will be more physically robust, actively prevent mistakes, and attempt to inspire artists who don't make their living from their artwork.